Land.Tour: SeitenWechsel
Discover Siebenmühlental (Seven Mill Valley) near Waldenbuch from a different angle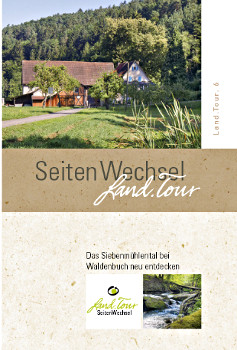 Fields and woodlands; foresight and insight; hilltop and meadow; wildlife, stillness, deep green and pale blue – on either side of the valley. This tour is one of constant changes. Not abruptly, but rather tentatively the landscape impressions evolve. The hiking pace allows space and time to experience to the full the different phases, to soak up the impressions of nature. Somewhat off the beaten track, many new aspects of the Siebenmühlental reveal themselves. Walk along the far side of the valley – switch sides – and suddenly there's relative tranquillity beyond the weekend bustle. Broad gravel roads give way to narrow dirt footpaths, level trails alternate with short, wild stretches of track with protruding roots, and on leaving the meadow you climb the hill again. Completing the whole route requires a certain degree of fitness, but if you're looking for an extended hike, you'll be in your element here. With longer breaks the tour will take all day. If you'd rather do it in two stints, you can take the short cut at the Kochenmühle mill and save the second stage for next time.
Details of the hike
| | |
| --- | --- |
| Difficulty: | medium |
| Distance: | 11.1 km |
| Ascent: | 139 m |
| Descent: | 139 m |
| Duration: | 3:26 h |
| Lowest point: | 333 m |
| Highest point: | 464 m |
The flyer with information and a map is obtainable from both Town Halls or from the Landratsamt in Böblingen. If you prefer to access it online, you can view the flyer here and print it out.

You'll find the digital route planner here.